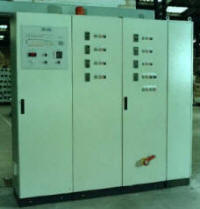 All control panels have audio-visual alarms for :
Motor faults
Zone over temperature
Zone under temperature In the unlikely
event of problems, operators are immediately alerted.
More sophisticated panels are the norm incorporating mimic panels, as seen on the panel above. This offers the operator an instant visual display of any motor trip, burner fault etc. Instrumentation can be locked to prevent tampering by unauthorised personnel.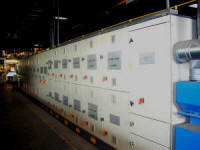 The picture on the right shows a panel that was designed to suit a customers specific access needs.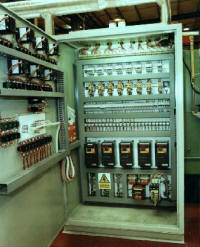 All new panels carry the CE mark, ensuring quality of workmanship and safe operation. Leerco control panels have quality and neatness. Logical layout ensures ease of maintenance and burner controls have visual display programs for fault finding.